This conference is tailored to University of Connecticut First Year Experience instructors. But any University of Connecticut faculty, staff, or graduate student from any of our campuses interested in learning how to best serve first-year students in their classrooms is welcome to attend.
Date & Time: Tuesday, May 8, 2018, 8:15am-3:45pm
Location: UConn's Storrs Campus, Werth Residence Tower's Forum (NextGen Room 112)
2018 Conference Theme: Share & Play!
Keynote: Ready Student One: Engaging Students with Playful Learning with Dr. Daniel D. Burkey, Associate Dean for Undergraduate Education and Diversity, School of Engineering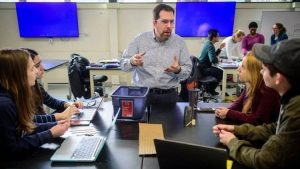 Modern college-age students have grown up as digital natives, and are used to always having a smartphone or other device at the ready to combat boredom. Much of the time they spend on these devices is spent in a game environment, whether it be in games proper, like the myriad of mobile games that are available from various app stores, or in gamified environments, such as social media, where the number of likes or shares constitute near-instantaneous feedback to them. As students are used to this kind of feedback, can we capitalize on it to develop new and innovative ways of engaging them in the classroom? Education and Games share many of the same core features, such as rules, competition or collaboration, feedback, and points. By bringing playful and game-based learning tools into the classroom, we can create active learning environments as well as engage students in ways that are meaningful to them. Come prepared to play!
Potential Workshops: Integrating aps and social media into FYE, Stress relief with students, Modern Chinese student mindset, and much more!
Food: A hot lunch will be catered by Cafemantic. We are excited to offer a standard/vegetarian buffet, as a well as a separate gluten-free/dairy-free/soy-free/nut-free buffet! Ingredients will be organic and/or locally sourced, down to the Hosmer beverages.
Electronic registration is now closed. Please register onsite when you arrive at the conference. We can't wait to see you!